STUDENTS HAVE AMAZING TIME ON ADELONG ADVENTURE
Two Sixth Form students, Georgina Page and Sam Coleridge (also known as Emma) had a great time participating in an Adelong adventure course during the summer holidays. The experience, which is tailored to individual students' needs, and incorporates teambuilding and survival activities in the outdoors combined with elements of Cognitive Behaviour Therapy, is designed to be fun and build students' confidence and feeling of self-worth.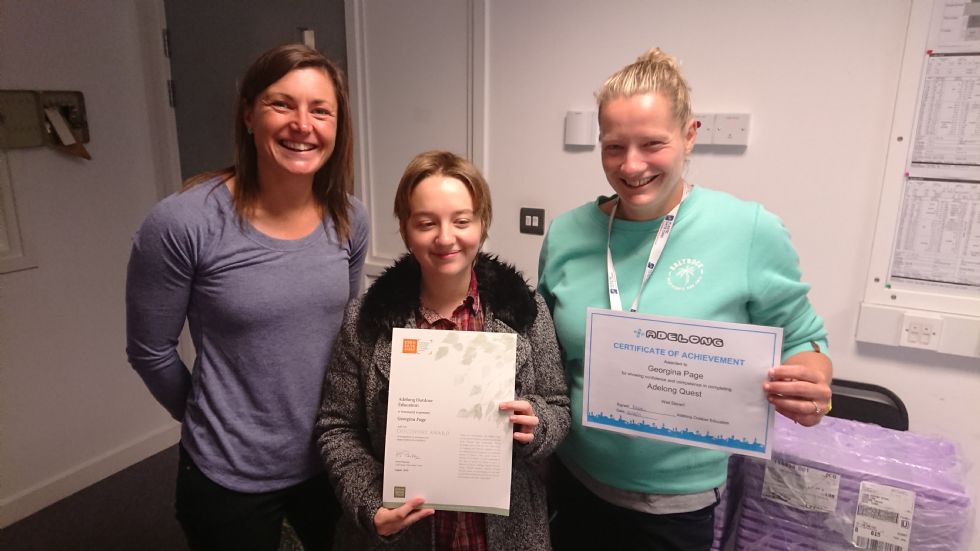 The 4-day adventure pushed both students out of their comfort zone whilst supporting them to achieve their goals with the challenges that were presented. On Day 1, they did some mindfulness at Great Houndtor followed by some rock scrambling at Greator Rocks. Day 2 saw them take part in some gorge walking along the River Plym at Shaugh Prior. On Day 3 and Day 4, the students embarked on an expedition in open canoes, paddling the 4 kms down the River Dart from Steamer Quay in Totnes to the Sharpham estate near Ashprington - along the way they cooked dinner on a fire and slept under a tarpaulin! Afterwards, both students said that they had both had a great time, and Georgina reported that she had conquered her fear of spiders and had tried some new foods. All in all, it was a marvellous experience for both students. Pictured is Georgina receiving her certificates from Charlie Chambers (left) and Becks, her assistant.
Edward W Thompson
(Head of 6th Form)