Carer's Celebration & Information Day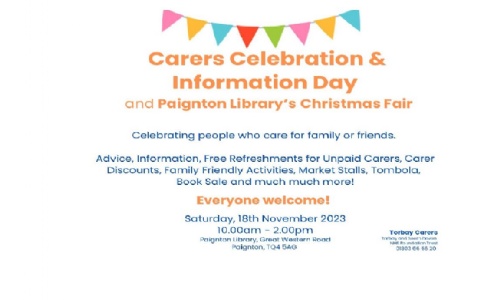 Does someone rely on you?
If you support a family member or friend, then you may be an unpaid Carer. Join us!
Paignton Library Saturday 18th November 2023 10.00am – 2.00pm (with Library's Christmas Market)
Celebrating Unpaid Carers and helping Carers to prepare for their future Everyone welcome! There are information stands, Health, Adult and Children's Social Care Services, free tasters for all and free refreshments for unpaid Carers, children's activities, cost of living and mental health support, legal advice and much, much more.
For further information nearer the time: Website: www.tsdft.uk/Carers Facebook: TorbayCarers signposts@nhs.net Tel: 01803 208455