'Student Voice' Group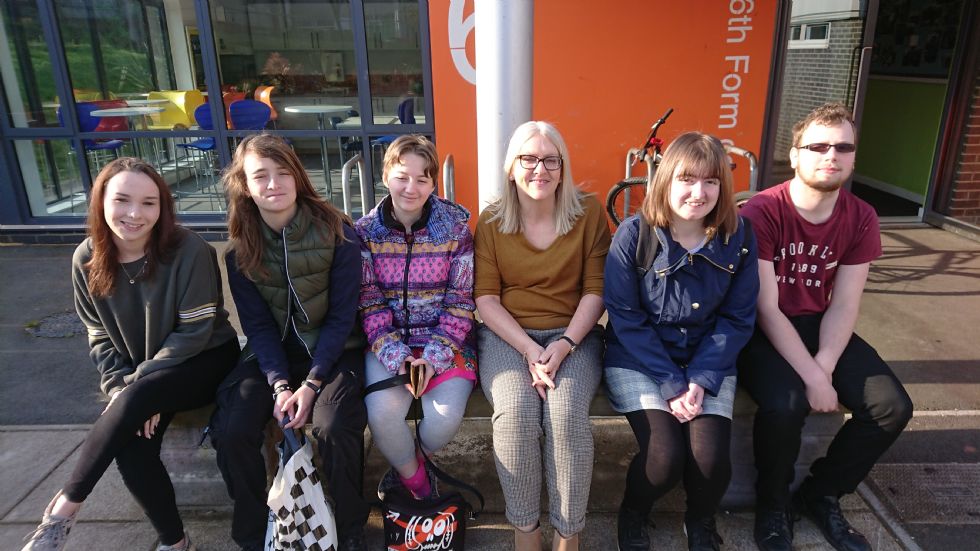 SIXTH FORMERS MEET FOR FIRST TIME AS 'STUDENT VOICE' GROUP
It's taken a bit of time to get it going, not helped by the fact that it's very hard to get students together at the same time because they're so busy, but finally a group of keen Sixth Form students has met with Rosemary Dolan (Sixth Form tutor) to act as a student body to consider and funnel suggestions from sixth form students to the school's management team. As the sixth form has grown, so too has the need to take note of student opinions with regard to the sixth form programme and the building itself. The Student Voice group intends to meet at least once every half-term as a group in the Yellow Frog Café on a Friday at 2.45 p.m. to air and discuss issues, problems and ideas for making the sixth form an even better place to be to work and study Post-16. Already the group has said that students need greater seating outside the sixth form building so that they can sit and chat with friends at break and lunchtimes, and this will be considered in due course.
Pictured with Mrs Dolan are Shannon Gendall (Year 12 Retail), Vanessa Raybould (Year 13 Motor Vehicle), Georgina Page (Year 13 Preparation for Working Life), Louise Jewell (Year 12 Preparation for Working Life) and Marcus Reed (Year 14 Care). Also in the group, but missing from the photo are Eddie Hoyte (Year 13 Preparation for Working Life) and Jasmine Coward (Year 12 Preparation for Working Life).
Next term I hope to be able to report on some actions that the Student Voice group have been responsible for introducing.
Edward W Thompson
(Head of Sixth Form)