Spring Horticulture Update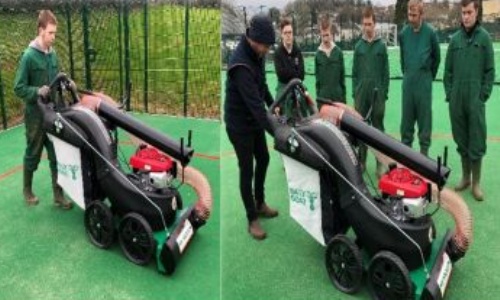 All pupils are working hard and progressing well in Horticulture. They are working towards their City and Guilds Level 1 Award, Certificate or Diploma in Practical Horticulture Skills.
The Year 10s are gaining new skills and have already passed some units. Year 11 pupils have almost completed their 8 units, and some will even have extra units towards the Diploma, which will be especially useful if they join the Horticulture pathway in the Sixth Form. The Sixth Formers are working steadily through their Diploma Units, and have the added bonus of gaining extra experience in Coleton Fishacre National Trust gardens every other week. We have been very busy maintaining the school grounds this season; generally weeding and mulching the different areas. We have also raised money for additional equipment and perishables such as seeds and compost through the Valentine's Day roses and Mother's Day flowers. Our biggest news is that the governors have kindly funded a Billy Goat Leaf Vacuum to make our maintenance of the Astroturf quicker and easier. It is a large petrol machine and is a very welcome addition to our fleet of 5 mowers, 5 strimmers, 5 leaf litter blowers and 2 small leaf vacuums. We received operating training from Devon Garden Machinery, which was exciting for the pupils. The pupils really enjoy learning how to use the machinery, and the machinery units really enrich the course.